More month left than money?
We've all experienced that feeling of having more month left than money just before payday. That's why we're holding the PostFinance Card Lotto on the 20th of every month from this August through to February 2024. Up to 2400 customers win each draw. So you're in with a good chance of scooping a prize.
How it works
To play, you don't have to do anything – just wait and hope for a bit of luck.
The last 5 digits of the ID number on the back of your PostFinance Card are your lottery numbers.
Drawings take place on the 20th of each month.
Winners will automatically be informed in writing.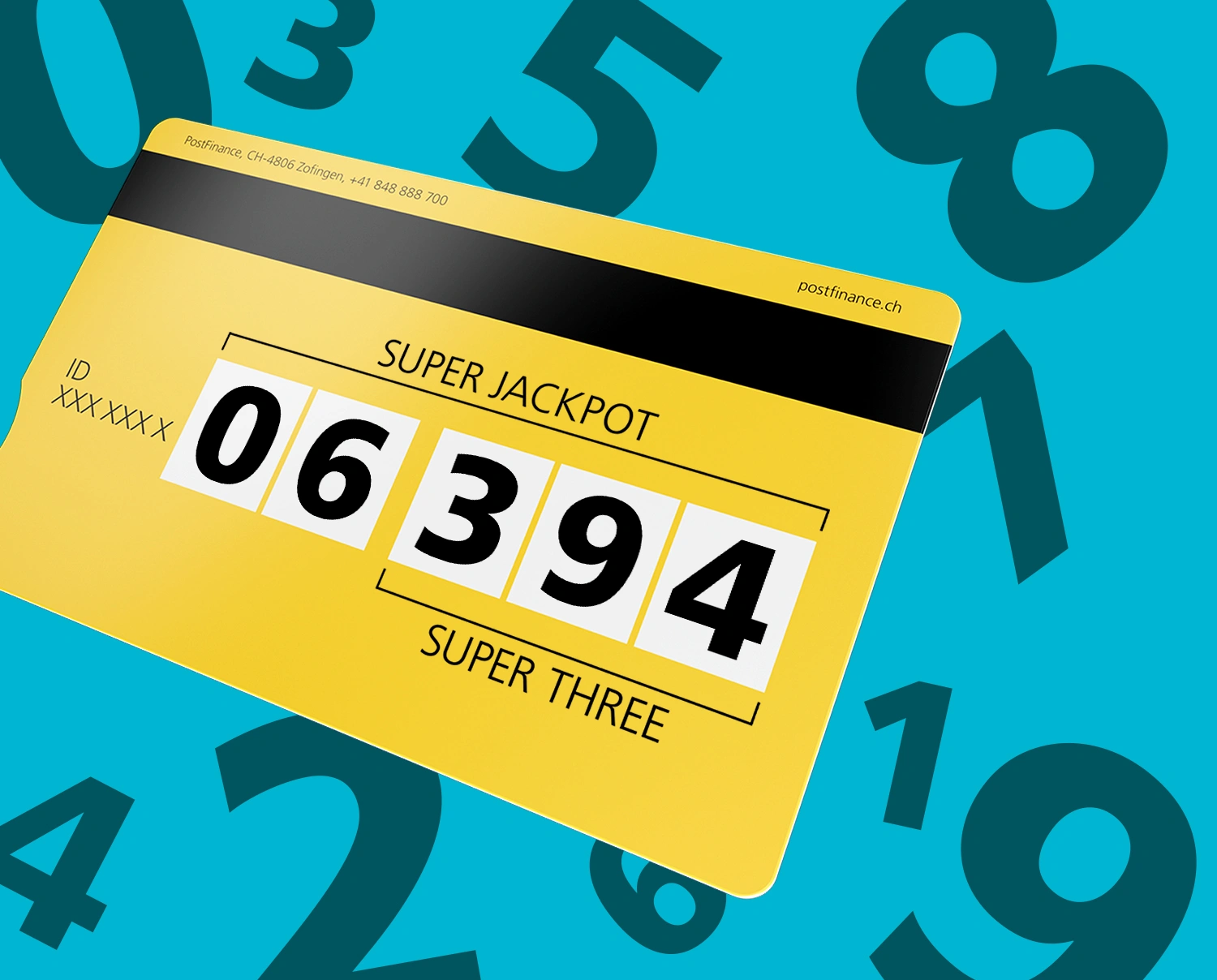 Winning numbers and prizes in November
If the last three digits of the ID number of your PostFinance Card match the numbers drawn, in the same sequence, you win the Super Three. If the last five numbers are an exact match, you win the Super Jackpot.
Super Jackpot November:
VIP Package Zermatt Unplugged 2024 for two persons including one night at a four-star hotel
Super Three November:
100 francs credited directly to your PostFinance account
Draw in November
In the fourth lottery draw, Nik and Ramin can almost pass for real construction workers as they show off their digger skills. Watch the video to see whether or not they pressed the right buttons: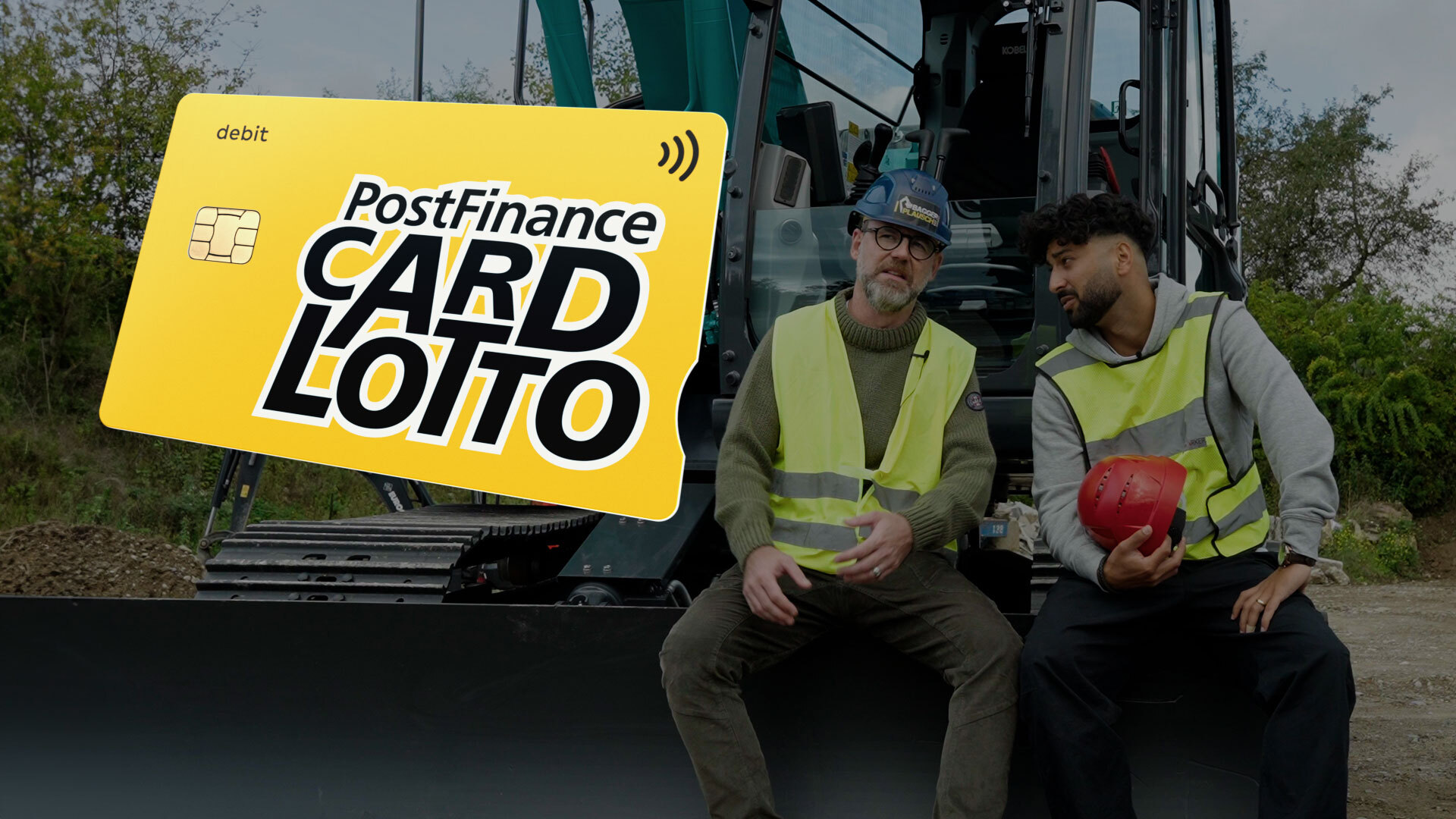 Missed a draw or are you finding that you simply can't get enough?
FAQ
Here you will find answers to frequently asked questions.
Which winning numbers have already been drawn?

August: 42 971
September: 75 323
October: 97 463
What are the terms of participation?

All PostFinance private customers automatically take part in in the draw every month, provided they have an active PostFinance Card in CHF or EUR. There are a few exclusion criteria, which you can find under Legal.
How are the winning numbers determined?

The winning numbers are drawn at random. Our two moderators Nik and Ramin take on a new challenge each month, in which the numbers are drawn randomly in a fun way. In the first month, for example, they were 'toppled' while rodeo surfing. When one of them lost his balance and fell, he landed randomly on a number, depending on the motion of the rodeo.
How do I know if I have won?

If you win, we will automatically inform you in writing. But you can also follow the draws and winning numbers on this website and our social media channels.
I won. What now?

YAAAAYY!!! First of all, congratulations! You don't need to do anything; we'll take care of everything. If you win the Super Three, the 100 francs will be transferred directly to your PostFinance account within 14 days of the draw. If you win the Super Jackpot, we will send the prize to your home by post shortly after the draw.
What happens to my data?

All participants' personal data will be processed and used exclusively for the purpose of administering and executing the competition.
Can I give the prize away?

Once you have received the Super Three or the Super Jackpot, it is up to you whether you keep it or give it away. Vouchers are not personalised and therefore transferable. However, they may not be sold to third parties.
Can I win more than once?

Theoretically, winning more than once is not out of the question – and we would definitely like you to! But the probability of a double win is very, very, very small indeed ;)
Are the prizes always the same?

All winners of the Super Three will receive 100 francs transferred directly to their account with each draw. New, fabulous prizes await you every month in the Super Jackpot.
Can I exchange the Super Jackpot for cash?

Prizes cannot be exchanged for cash, except in the case of minors: the monetary value of the non-cash or experience prize is always transferred directly to their account.
Can I win both prizes?

No. With three matching numbers you win the cash prize and with five matching numbers you win the Super Jackpot. Prizes to be won